Arborists using chainsaws have been hard at work creating new hollows for threatened wildlife in storm-affected areas of the Wombat State Forest.
Hollows carved into trees could soon become home to species like the greater glider, brush-tail phascogale and Red-browed tree creeper, which lost important habitat in the June and October 2021 storms that affected more than 80,000 hectares of the Wombat State Forest.
Chris Arnold, Recovery Operations Manager in the DELWP Grampians Region, said about 50 hollows had been created as part of an initial trial. Another 140 followed in the project's second phase, including Cobaw State Forest. A chainsaw carved some, while others were created using a method called Hollowhog that makes large internal cavities through small entry holes in both living and dead wood.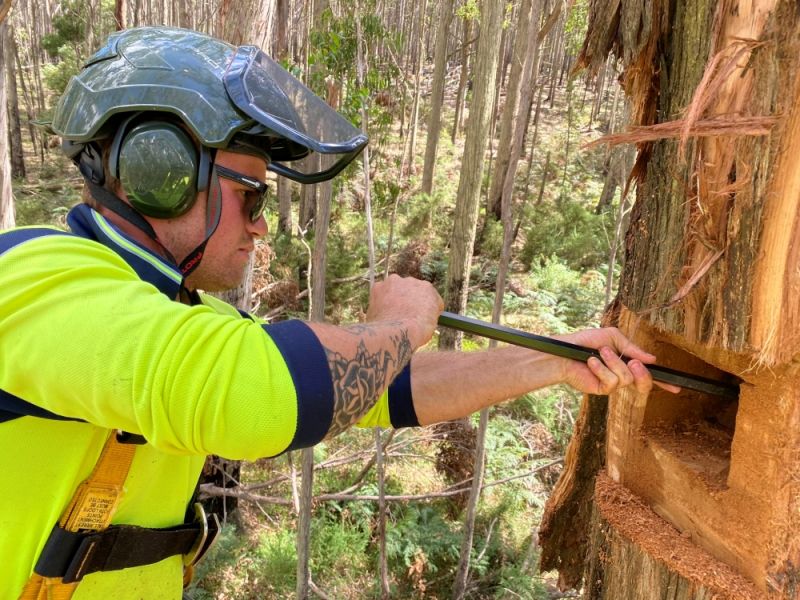 Wombat Forestcare helped identify places where the greater glider and other threatened hollow-dependent species had been seen before the storm damage. In those places, hollows have been carved into trees that lost their crown in the storms but remain standing.
'The idea is that these carved hollows will more closely replicate natural hollows, which can take 100 years to form naturally. Being carved into the tree, they will have better thermal insulation, which we hope will encourage more wildlife use,' Mr Arnold said.
'The hollows of varying sizes will evolve as the trees grow and cater for different species over time.
The district has partnered with Federation University, whose students will help provide ongoing monitoring of the hollows.
We hope to learn from this trial to see if these chainsaw-carved hollows can also be useful after planned burning activities or fire recovery to ensure the habitat is maintained or restored.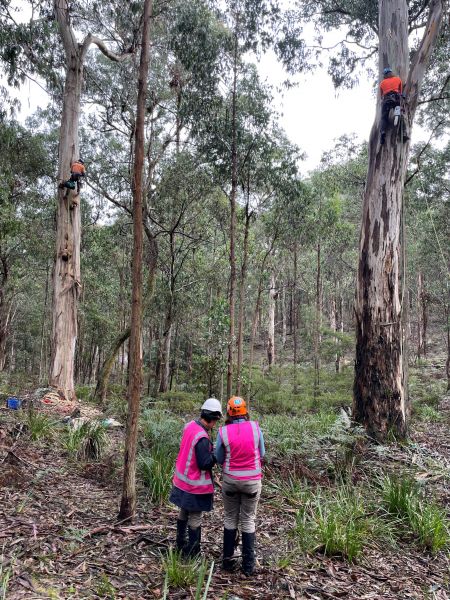 Under DELWP's extensive recovery program following last year's June and October storms, more traditional nesting boxes are also being installed in the Yarra Ranges, Moorabool, Hepburn and Macedon, where DELWP has partnered with local councils on local recovery projects.
Community members in Moorabool, Hepburn and Macedon will install nest boxes on private properties. Grampians Regional Recovery Manager Mark Lee said the councils have been engaging with residents keen to address the loss of hollows during last year's storms.
Through DELWP's support, we have been able to get great environmental and social outcomes, he said.
DELWP granted each council $10,000 to run community workshops and gave participants nesting boxes and Indigenous plant packs. The plants will provide a food source to the native fauna species that would ideally take up residence in the nesting boxes.
'The shires have engaged Men's Sheds and Rotary groups to build the boxes. The wood was sourced from Bushfire Recovery Victoria's wood processing plant in Romsey, and local community members will install it on their properties, so it's a real win-win story,' Mr Lee said.
The Dandenong Ranges in DELWP's Port Phillip Region were also severely affected by last year's storms, with more than 25,000 trees estimated to have fallen within the Yarra Ranges.
Supported by $67,000 of DELWP recovery funding, the Yarra Ranges Council is installing 60 modular nest boxes and multiple wood hollows across six locations in Lilydale, Mt Evelyn and Montrose as a part of its storm recovery works.
Fallen logs and stumps collected during the storm clean-up are also being repurposed in bushland sites to create habitat for local fauna.
The program has the potential to support more than 30 species that rely on hollows for breeding and nesting, including various microbat species, yellow-bellied gliders and sugar gliders, and small to medium-sized owl species such as the boobook owl. There will also be large hollow logs that will cater specifically for the larger threatened owls, including the powerful owl and sooty owl.
DELWP has supported the Yarra Ranges Council with detailed species information and advice to determine the most suitable habitat for installing tree hollows.
Did you know?
Loss of hollow-bearing trees from Victorian native forests is a Flora and Fauna Guarantee Act-listed potentially threatening process (PDF, 78.4 KB).
More than 100 native species depend on natural tree hollows, so protecting large, old, hollow-bearing trees and surrounding habitat is critical.
Nest boxes can provide some value when hollows are in short supply, but not all hollow-dependent species will use them.
Want to help or learn more?
Refer to this general guide for using nest boxes (PDF, 613.6 KB) and this webpage on protecting wildlife if you would like to learn more.