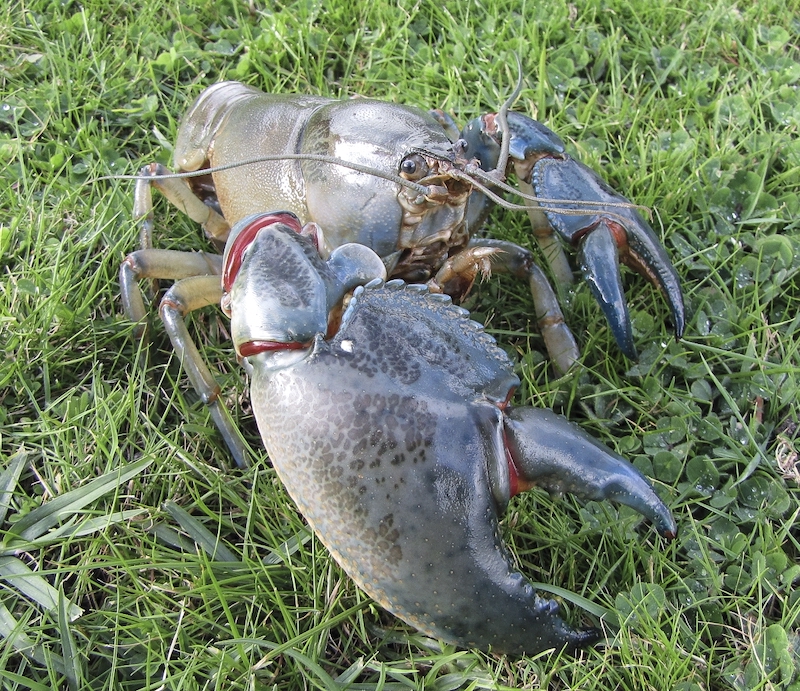 A new species of freshwater crayfish, known as the Swamp Yabby, has been formally named and described after 15 years of rigorous fieldwork from scientists at the Department of Environment, Land, Water and Planning's (DELWP) Arthur Rylah Institute for Environmental Research (ARI) and private research firm, Australian Aquatic Biological.
DELWP Executive Director Biodiversity Division, James Todd said the exciting discovery of the Swamp Yabby (Cherax latimanus) is a significant biodiversity achievement, which adds to the wealth of important information used to manage and protect Victoria's waterways and its aquatic creatures that call them home.
It's the first time in 80 years that a new yabby species in the Murray-Darling Basin system has been formally described, making the Swamp Yabby only the third species known to naturally occur in the Basin.
It's found in deep clay soil burrows in northern Victoria's Goulburn, Broken and Ovens River catchments, and as far north as Deniliquin in New South Wales.
The exciting discovery led by ARI scientist, Dr Tarmo Raadik and Robert McCormack from the Australian Aquatic Biological, said the species looks similar to the well-known Common Yabby (Cherax destructor), but is much larger and has uniquely shaped broad claws. The species is not considered threatened.
Formally describing a new species is critical for researchers to clearly identify and share biological information with the scientific community, as well as governments, agencies and land managers responsible for the protection and care of flora and fauna.
Learn more about the Swamp Yabby.
This project contributes to the Victorian Government's Biodiversity 2037 Plan, which aims to connect people with nature and manage Victoria's biodiversity for future generations.
Quotes attributable to DELWP Executive Director Biodiversity Division, James Todd
"This work demonstrates the commitment of our skilled scientists at DELWP, highlighting how much work can go into locating and then formally describing a new species - especially one that's found deep underground.
"By formally describing the Swamp Yabby, governments and land managers are able to make the best management decisions, particularly during drought, to ensure its survival into the future.
Quotes attributable to ARI Senior Scientist - Fish Ecology, Dr Tarmo Raadik
"We'd heard rumours from landholders and river-users that there was a different and larger yabby living in the Barmah Forest - little did we know it would take so long to track it down.
"The first step to conserving biodiversity is discovering and naming new species, as we cannot protect something properly if we don't know it exists in the environment.
Page last updated: 06/09/21