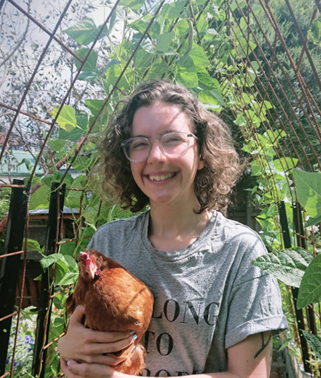 Graduate profile
Job title: Environmental Scientist (Resources)
University:Monash University and University of Melbourne
University course: Bachelor of Science w/Honours majoring in Chemistry
What a typical working day looks like for Helena
8:00 am
Wake up, shower, feed the cat.
8:30 am
Make a coffee, check on the vege garden and the chickens.
8:45 am – 9:00 am
Start work. Check all my emails, organise my day ahead.
9:30 am
Have a theoretically half hour-long meeting that turns into an hour and a half on mine rehab updates.
11:00 am
Get frustrated because a SOP I thought I was done with edits for in March has been sent back round again for people's comments.
12:30 pm
Lunch time I usually try to go for a walk at lunch when working from home.
1:00 pm
Go through water and dust analysis sent to me for a couple of rehab sites, make them into pretty graphs for the public to understand.
2:00 pm
Try to tackle writing some of the major project I'm working on as the project lead.
3:00 pm
Take a quick break coz my eyes hurt from staring at screen for hours.
3:15 pm – 5:00 pm
End of the day is always a blur, usually just a bunch of odds and ends tidying up. Chase up COI forms for procurement, make edits to ministerial briefs, and get angry at Content Manager for taking over half an hour to upload documents on to our internal system.
5:00 pm
Feed the now clearly starving cat. Make dinner at some point, I could lie and say I do all my hobbies after work or go out with friends and be social but honestly, I just chill out on the couch, binge watch a tv show I've already seen before because it's comforting and switch off my brain.
Page last updated: 01/08/22