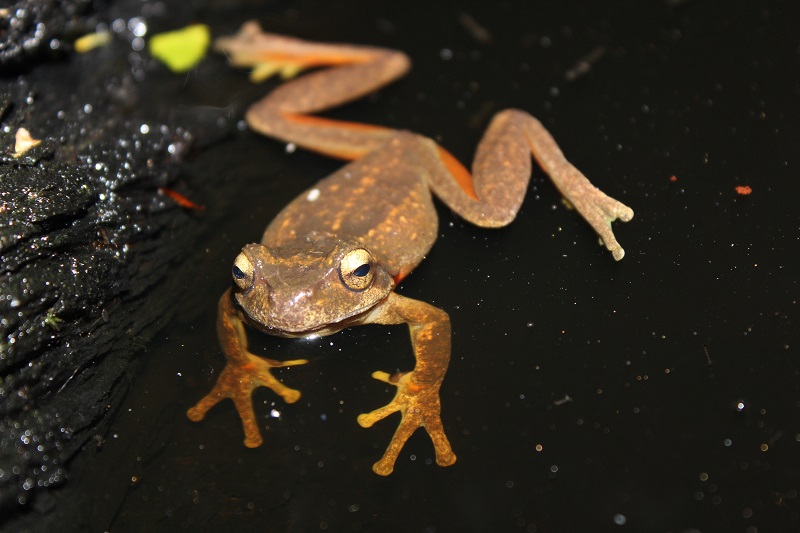 It will soon be easier for researchers to locate, monitor and protect populations of rare and endangered frogs thanks to an exciting new innovation in sound-recognition software, developed by scientists at Victoria's Arthur Rylah Institute for Environmental Research.
ARI Senior Scientist Ecological Modelling, Dr Peter Griffioen said while still being trialled, the software was showing impressive results identifying frog species to assist scientific research and conservation
Similar to song recognition apps, the software uses a technology known as 'deep learning' to identify patterns in field recordings of frog calls and matches the patterns to frog species. While similar software has used frequency and pitch to identify species, ARI's innovation is proving faster and more accurate.
The pilot study has shown to be more than 90 percent accurate for 14 frog species previously recorded along the Murray River and in east Gippsland, which is an exciting result as existing versions of similar technology achieve 60 to 70 percent accuracy. It's also proving effective in noisy environments, where other bush or traffic sounds can impact recordings for researchers.
The software allows thousands of hours of audio captured by remote recording devices to be analysed in minutes, compared to months if it were done manually, saving time and resources. It also analyses historic recordings, quickly enabling researchers to understand where species were previously found or migrated from.
With further collaboration and funding, it is hoped this software will continue to develop with the project team planning to expand the software to identify other species including birds, bats and gliders.
ARI is part of the Department of Environment Land Water and Planning (DELWP) and the Frog Call Recognition Pilot is funded by the Arthur Rylah Institute and the Victorian Government's Forest Protection Survey Program, which aims to develop innovative tools for environmental research and monitoring.
Quotes attributable to DELWP Executive Director Biodiversity Division, James Todd
"Developing this technology to identify frogs demonstrates the incredible innovation and talent we have in DELWP, and why our scientists and ecologists at institutions, like ARI, are so valuable and respected."
"This software has enormous potential and I have no doubt that it will be a game-changer in the way we analyse important data to protect frogs and other species across Victoria and indeed Australia."
Quotes attributable to ARI Senior Scientist Ecological Modelling, Dr Peter Griffioen
"This software will accelerate our research on frogs by saving scientists thousands of hours listening to recordings and matching it with the correct species."
Page last updated: 31/08/21