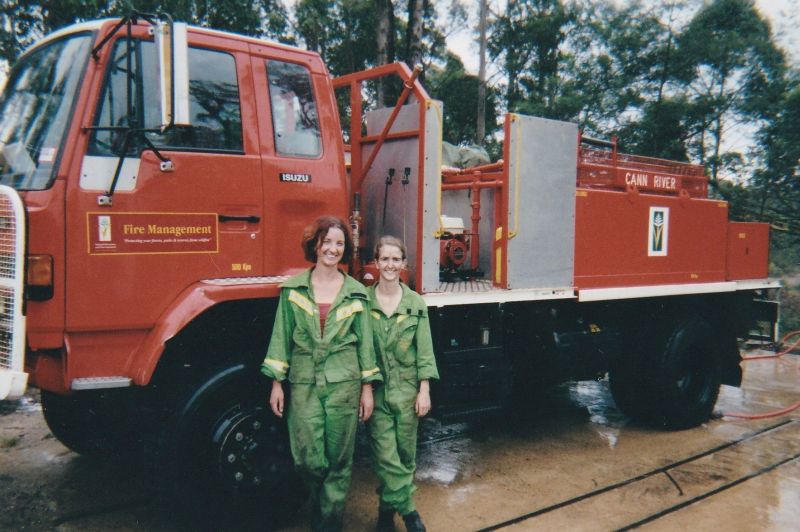 For many people being a Project Firefighter (PFF) is the start of their career in the Department of Energy, Environment and Climate Action (or its predecessors) and Forest Fire Management Victoria (FFMVic).
Kirsty Hannan is a Program Manager with the Community Partnerships Program team in FFMVic's Gippsland region and Tarnia Leeming is a Traditional Owner Agreements Officer which is part of the region's Community and Partnerships Program.
Both started with FFMVic as PFFs in 2002 and were based at the Cann River depot in Gippsland.
Tarnia only did one season before starting work on reception in the then-Department of Sustainability and Environment's Traralgon office as a casual, followed by an ongoing role in Crown Land Management.
Kirsty continued to be a PFF for 2 further seasons before becoming a Ranger with Parks Victoria while she completed her Bachelor of Environmental Science via remote learning.
Since starting their land management careers as PFFs, both women have had many roles.
Kirsty's roles have been in the community development and community engagement areas with natural resource management agencies.
'I enjoyed the natural resource management space and, through my contacts I had made as a PFF, was able to use the experience as a PFF to successfully apply for a role with the East Gippsland Catchment Management Authority.
'I have worked in similar roles ever since, returning to the department in 2017 in the Forest, Fire and Regions division and have been able to reconnect with people I used to work with when I was a PFF.'
For Tarnia, importantly, her strong interest in the environment and land management, working for the Department has meant she has been able to work in a variety of areas which has kept it interesting.
Both Kirsty and Tarnia have seen many changes, all for the better, over the years especially the increased number of females on the crew.
'So many changes, way more women on the fire line now which is fantastic,' Kirsty said.
'The focus on safety and mental wellbeing is great, we used to jump up on the top of slip-ons to fill the water tanks and hand wind the hoses in, that's all changed now.
'Even the fitness tests are so different; the old green backpack filled with bladders of water were super uncomfortable in comparison to the weight vests we have these days.'
'Fatigue management wasn't a thing in 2002/2003, we either worked or were on standby every weekend,' Tarnia said.
'It is very well managed these days with more health and wellbeing support.
Both women were in total agreement on one particular improvement!
'No more one-piece fire overalls!' Tarnia said.
'The onesie overalls were challenging when you were stuck in a remote location, with no tree cover and fire ants start crawling up your legs,' Kirsty added.
'Modesty tended to fall away.'
Today, the workwear for the crew out in the field is 2 pieces, pants and a jacket. FFMVic also provides female-cut options, reflecting the need to tailor the uniforms to cater for the increasing number of women becoming forest firefighters.
Many people think being a PFF is all about fighting fires, however, there is much more to the role than that.
It also depends on the severity of the season. Sometimes when there are few fires, there is an opportunity for PFFs to be involved in other activities such as land management activities including caring for our state forests, recreation, and tourism infrastructure to prepare forests and parks for the fire season.
Very little has changed in the role of a PFF since 2002 when Kirsty and Tarnia both started.
For both Tarnia and Kirsty, their time on crew involved lots of firefighting. The 2002-03 season saw the Eastern Victorian alpine bushfires which burnt in north-eastern Victoria, the Victorian Alps and Gippsland
However, they were also involved in bushfire prevention work and preparedness, conducting planned burns, roadside vegetation and fire trail maintenance and other fuel management activities.
'We also did track clearing, off-siding machinery, general maintenance of recreation facilities, maintaining fire breaks and walking tracks, cleaning vehicles and equipment maintenance,' Tarnia said.
She laughed when she remembered the girls on crew being kept back to clean the kitchen and storeroom regularly too.
'I hope this task is shared more widely now!' she said with a smile.
For Kirsty, downtime was track clearing and preparing for the next fire.
'It has been a long time since I was a PFF but there seems to be a greater focus on learning and development for PFFs now, and on safety and wellbeing and career progression which is fantastic,' she said.
'These days, when I facilitate sessions that include current PFFs, I always get them to take out the word just in "I'm JUST a PFF".
'Being a PFF was some of the physically toughest years of my life, and I loved it.'
These days, both Kirsty and Tarnia still have roles to play when there is a bushfire or other emergency.
Tarnia is a Situation Officer, which means she reports to the Planning officer and is responsible for the collection and processing of incident information, keeping an eye on weather conditions, preparing regular situation reports and the Incident Shift Plan, and working closely with ground observers, air observers and mappers.
Meanwhile, Kirsty provides Executive Officer support to the Regional Controller and community liaison during emergencies.
'Being in the office during emergency response is a completely different experience and sometimes I think how good it would be to pick up a pack and head back out on the fire line.'